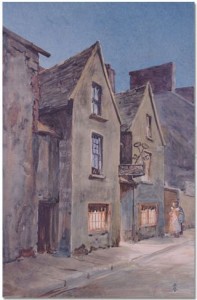 Medieval Swansea surrounded the castle on three sides, on the fourth side, to the east, the land sloped away to the River Tawe and the quay.
The original or Old Castle was built by the Norman, Henry de Beaumont, Earl of Warwick who had conquered the Gower. Nothing remains visible of this castle today; having been built in 1106, by 1217 the Welsh had destroyed it.  The New Castle, the remains of which we are familiar with today, was built by William de Breos II, Lord of Gower, at the end of the thirteenth century.
The Cross-Keys Inn is the only other medieval building remaining in Swansea, or more accurately the rear of this much restored building incorporates the remains of the Hospital of the Blessed David.  Built by Henry de Gower, Bishop of St. David's in 1332 this almshouse was 'for the support of other poor chaplains and laymen deprived of bodily health'.
Three of the original 14th century windows can still be seen at the rear of the modern day public house.
Find out more…
Read more about Archaeology in Swansea… Archaeologists, antiquarians and Egyptologists