Professional football eventually stopped as the First World War progressed, but not before the Swans recorded one of their most famous victories. Blackburn Rovers, reigning national champions, were beaten 1-0 at the Vetch in the FA Cup in January 1915. Blackburn missed a penalty, amateur Benny Beynon got the winner.
The ending of League competition was a nancial disaster for the commercial clubs, but charity matches, friendlies and inter-service matches kept Swansea Town alive. In April 1918 a match against the Royal Flying Corps had 10,000 spectators, despite an international rugby match at St. Helen's on the same day. Within a year of resuming in 1919,  professional football faced big changes.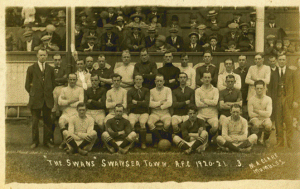 The top division of the Southern League was incorporated into the Football League to create a new national Third Division. Since the 1920-21 season Swansea has competed in the Football League, and has spent time in every division.
The Swans won their first championship in 1925 and were promoted to Division 2. The following season the Swans embarked on another tremendous FA Cup campaign. A brilliant 2-1 victory over Arsenal at the Vetch was followed by the heartbreak of losing the semi-final to Bolton.
Find out more…