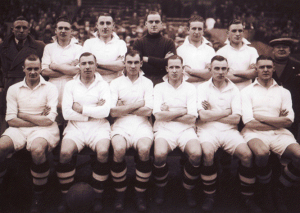 The Swans faced frequent fights against relegation during the 1930s, avoiding the drop on the last day of the season in 1931 and 1938. The club played its 500th League match in 1932.
A period of economic depression and high unemployment contributed to the club's financial difficulties. In the Summer of 1935 there was an appeal to fans to raise money to 'save the club from decline'. The Evening Post started a Shilling Fund.
Creative attempts were made to raise funds by staging alternative events, such as boxing matches, at the Vetch.
In contrast to the first team's achievements, the Swansea Schoolboys team reached spectacular heights by becoming the first Welsh team to win the English Schools Shield in 1939. 20,000 spectators at the Vetch saw the young Swans' 2-1 victory in the final over Chester field. This was the first nationally-contested cup won by any Swansea team.
At the end of the 1930s professional football was suspended immediately after the outbreak of World War II. The vetch was requisitioned, to host an anti-aircraft gun battery. Friendlies and charity games, often with guest players on leave from the armed forces, were again a staple of the war years.
Find out more…