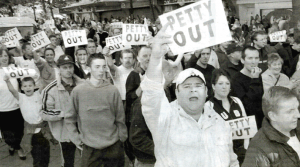 In January 2001, as work on the new stadium was given the go-ahead, the owners put the club up for sale for £3m, announcing a half-year loss of £800,000. The club was then sold for £1 to Managing Director Mike Lewis – a sale which included liability for the £800,000 debt.
In October Tony Petty took over the club. Later that month he sacked some of the players and altered contracts for others. There were demonstrations in the city centre calling for 'Petty Out!'.
A local consortium, backed by ex-player Mel Nurse, offered £50,000 for the club. High Court action followed, and Petty announced there was no money to pay the players.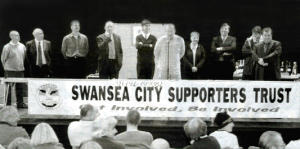 In January 2002 Petty eventually handed the club over to the Nurse consortium. The club was put into a Company Voluntary Agreement. Many people lost money under this arrangement, including several directors, Nurse among them. The Swansea City Supporters Trust emerged in response to these events. They aimed to ensure that fans had a say in the club's future. A new ownership model emerged over the next year, with the Supporters Trust investing money in the club, in return for board representation. The Trust owns 20% of the club.
Find out more…