The chaos took its toll and the Swans were in trouble. In 2003 everything rested on the last game of the season at home to Hull. A most dramatic match ended in a 4-2 win over Hull, three of the goals scored by local man James Thomas. The Swans were saved from falling out of the Football League.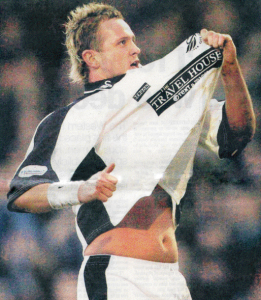 In the 2003-04 season the club was joined by Lee Trundle, who added goals as well as an attitude of fun. In March 2004, they reached the 5th Round of the FA Cup for the first time in 24 years. The financial fortunes of the club were also improving. The first transfer fee was paid for a player for nearly 5 years and the CVA was lifted which removed the fear of liquidation.  Work had progressed on the new stadium to the point where it would be ready for the 2005-2006 season.
The last season at the Vetch, which had been the Swans' home for 95 years, arrived in 2004. The last League goal at the Vetch was scored by Adrian Forbes against Shrewsbury Town, in front of 11,469 supporters. The last match, the Welsh Cup final, was played a couple of weeks later.
Find out more…