The Vetch Field was used for football from the late 19th century. It became the Swans' home in 1912. The South Stand was built in 1913.  The other sides of the ground had terraces made of railway sleepers set into earth banks.
In 1927, the double-decker West Stand was built, the last new seating at the ground for over 50 years.In 1960 the Supporters Club paid for a roof over the North Bank terrace, and floodlights were installed. The biggest ever  crowd was 32,796 to watch Arsenal in the Cup in 1968.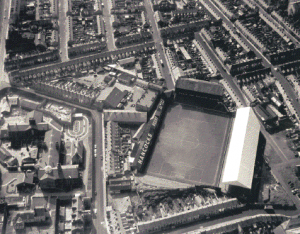 The last new build was the East Stand in 1981, but the enclosed site was not suitable for expansion, and many plans were made for a new stadium, with no money spent on the Vetch.  The crumbling state of the place became embarrassing. In 1990 parts of it were closed off for safety reasons.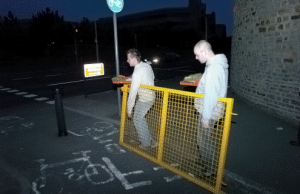 Finally, the new stadium was built with Council funding, and the club moved from its home of 95 years in 2005. After the last game, the ground was ransacked by souvenir-hungry fans. Situated in heart of the city, it had been a part of the lives of generations of Swansea football fans.
Find out more…