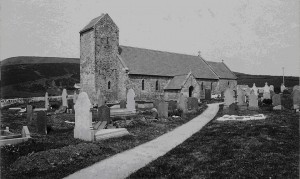 On his return in 1904, aged twenty-eight Edgar married a Rhossili girl called Lois Beynon, youngest daughter of William Beynon and niece of his mother, at Rhossili Parish Church.
Mr. and Mrs. Beynon, had kept the Old Ship Inn at Middleton.
For the next five and half years of their marriage (the total of their married life together), Edgar and Lois lived in Portsmouth, where Edgar completed his gunnery instructor's training programme.
The couple had three children, Muriel, Ralph and Norman.
Both boys were baptised at Rhossili Church during visits home to Gower in 1905 (Norman), and in 1910 (Ralph).
Scott had evidently given his encouragement and assurances to Edgar himself that he would return from the expedition with a 'good billet' representing financial security, promotion and a comfortable retirement.
Instead, with the tragic death of Edgar, his wife and three children were awarded £1500 by the Lord Mayor's Committee and a pension of £48 per annum from the Admiralty.
In January 1913, Lois Evans and her children moved back to Gower.