Opening hours
(main building)
Open Tuesday – Sunday
Closed Mondays except Bank Holiday Mondays
10am – 4:30pm (last admission 4.10pm)
Free admission
 
Opening Saturday October 7th 2017  – 11th February 2018
Swansea – A Photographer's Dream
Images of the 1960s by Colin Riddle
"Pastel headscarves shelter from the grey Welsh sky, monochrome children play in silted puddles in the shadows of abandoned factories.
Colin Riddle's images capture a lost period in post-war Swansea.
A record of a town in transition to treasure."
Colin Riddle was born in Swansea, south Wales in 1945 and lived there until 1965 before moving to London.  He returned briefly to live in Gower before settling in Pembrokeshire. He showed an early interest in photography and, in 1960, enrolled on a part time photography course in Swansea Art College at the age of fifteen. The pictures in this exhibition are mostly from the five years he spent there.
Living in Swansea, he says was, "to have the run of a uniquely inspirational town – that was a photographer's dream.  There can be few places where you can get aerial views of the town and its bay without leaving the ground. Swansea is surrounded by hills with incredible views. It's like flying but without the hassle".
In 'Swansea – A photographer's Dream' Colin's pictures of Swansea in the 1960s represent images of a lost age, and though much of what he photographed still exists for the keen historian to seek out, much has also disappeared.  Colin says he regrets that he didn't take more pictures when he was a student.  We are grateful that he took so many, and that they survive.
Purchase the paperback book at the museum for the exclusive price of £15 or online here.
The Welsh at Mametz Wood by Christopher Williams (1873 – 1934)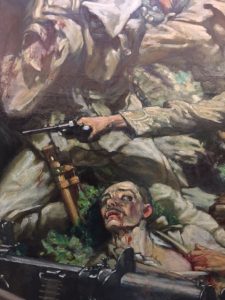 Now on display in our Great War Exhibition.
Four thousand men from the 38th (Welsh) Division were killed or injured at the battle of Mametz Wood between the 7th – 12 July, 1916. It was one of the most significant and bloody battles fought by Welsh soldiers during the Somme offensive and the First World War. The year 2016 marked the centenary of this battle.
The 14th (Swansea Service) Battalion, the Welsh Regiment, went into the attack with 676 men. After a day of hard fighting they had lost almost 400 men, killed or wounded before being relieved.
The battle has come to represent the bravery and sacrifice of Welsh troops in World War One. This heroic ideal was captured in the painting by the artist Christopher Williams, who was commissioned by David Lloyd George to travel to the Western Front a few months after the battle.
Kindly on loan from Amgueddfa Cymru – National Museum Wales.
Swansea and the Great War – ongoing…
The exhibition focuses on the stories of the men who went to fight in the Great War many of which were Swansea people.
The exhibition also reveals the struggles faced by women who were left behind and looks at their contribution to the war effort. It also explore the stories of conscientious objectors.