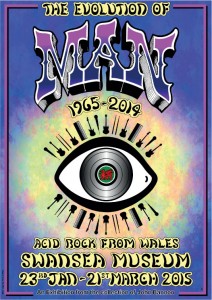 24rd January – 22nd March 
Swansea Museum will be hosting a unique exhibition of memorabilia and photographs covering the legendary band Man and their offshoots. It is the first of its kind in their half-century of music-making.
The exhibition showcases the collection of John Bannon, a long-time fan who has spent over 30 years amassing everything from stickers and badges through photos and T-shirts to posters, set lists and flyers. These trace Man's story from the Langland Hotel in Swansea where they recorded their first album 'Revelation' in 1969 to the world's great rock stages – San Francisco's Winterland, the Camden Roundhouse and the Albert Hall to name but three.
"Everyone has a favourite group mine happens to be Man. I grew up in South Wales influenced by bands playing in my local area, two of these bands were The Bystanders and The Dream. They united and formed Man; the music they produced made a great impression on me, and so began my collecting days. Two YouTube video's 'Girl So Shy' and Drivin' Around were made using my memorabilia.
"Fellow Man fans said it would be nice to see the items in the videos displayed at some point and finally after all these years part of my Man and related collection is to be exhibited at Swansea Museum 23rd January to 21st March 2015."
The idea for the exhibition came when Bannon and a fellow fan made a video tribute to Micky Jones, Man's other founding guitarist, who died in 2010. "It was well received, and some friends said it would be nice to see the items displayed at some point," says John.
The timing of the exhibition is noteworthy. It celebrates 50 years since the formation of the Bystanders, the pop group which became Man three years later, and also opens three weeks after Deke Leonard's 70th birthday.
Return to exhibitions page.