Opening hours
(main building)
Open Tuesday – Sunday
Closed Mondays except Bank Holiday Mondays
10am – 4:30pm (last admission 4.10pm)
Free admission
One Swansea – Celebrating Swansea's Intercultural Past and Present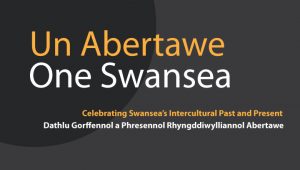 Swansea today is a city of sanctuary and a proud champion of interculturalism, but it's important to put migration in context.
Over the past centuries, Swansea has maintained a proud record of community cohesion based on cultural, racial and religious tolerance, while with each passing generation the town and city has blended the new arrivals into its own distinctive urban identity.
Part of that continuing story of cultural change is told here in this exhibition.
Looking at the stories of the diverse range of nationalities that have made Swansea their home over the years.
From the 18th century untold stories of black people in Georgian Swansea right up to today and its position as City of Sanctuary.
In collaboration with West Glamorgan Archive Service, Swansea University, The Josef Herman Foundation, African Community Centre and Rewise.
The Welsh at Mametz Wood by Christopher Williams (1873 – 1934)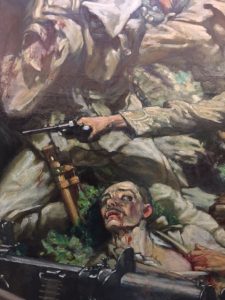 Now on display in our Great War Exhibition.
Four thousand men from the 38th (Welsh) Division were killed or injured at the battle of Mametz Wood between the 7th – 12 July, 1916. It was one of the most significant and bloody battles fought by Welsh soldiers during the Somme offensive and the First World War. The year 2016 marked the centenary of this battle.
The 14th (Swansea Service) Battalion, the Welsh Regiment, went into the attack with 676 men. After a day of hard fighting they had lost almost 400 men, killed or wounded before being relieved.
The battle has come to represent the bravery and sacrifice of Welsh troops in World War One. This heroic ideal was captured in the painting by the artist Christopher Williams, who was commissioned by David Lloyd George to travel to the Western Front a few months after the battle.
Kindly on loan from Amgueddfa Cymru – National Museum Wales.
Swansea and the Great War – ongoing…
The exhibition focuses on the stories of the men who went to fight in the Great War many of which were Swansea people.
The exhibition also reveals the struggles faced by women who were left behind and looks at their contribution to the war effort. It also explore the stories of conscientious objectors.