Opening hours
(main building)
Open Tuesday – Sunday
Closed Mondays except Bank Holiday Mondays
10am – 4:30pm (last admission 4.10pm)
Free admission
VOTES FOR WOMEN!
Opens Tuesday September 18th
Wales For Peace
Opens Tuesday September 18th
This exhibition will bring together elements from all of the other Wales For Peace project activities. We'll seek to tell the story of Wales and peace from 1914 right up to the present day. The exhibition will include both national and local, customised multimedia content. We will also record people's views in a variety of ways, which will help to inform the continuing evolution of the exhibition.
Wales and the Welsh people experienced the Great War at sea in numerous ways. Bringing together historians, archaeologists, marine scientists, museums and community groups across Wales, the U-Boat Project, 1914-18: Commemorating the War at Sea tells their stories.
The Swansea Museum Psychohistory Sound Installation
22 Sep 2018 – 21 Oct 2018
Free Live performance on Saturday 22nd September 2.30pm.
Swansea Museum
Locus (Richard James and Angharad van Rijswijk) have been commissioned by Swansea Museum and Swansea International Festival to create a sound installation in response to the objects and artefacts on display in the two main gallery guest exhibition spaces – exhibitions commemorating the First World War and the Suffragette movement, with a focus on the Swansea and South Wales area.
The Welsh at Mametz Wood by Christopher Williams (1873 – 1934)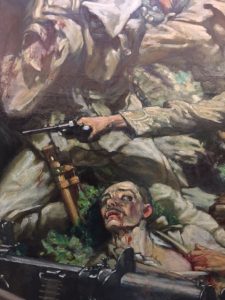 Now on display in our Great War Exhibition.
Four thousand men from the 38th (Welsh) Division were killed or injured at the battle of Mametz Wood between the 7th – 12 July, 1916. It was one of the most significant and bloody battles fought by Welsh soldiers during the Somme offensive and the First World War. The year 2016 marked the centenary of this battle.
The 14th (Swansea Service) Battalion, the Welsh Regiment, went into the attack with 676 men. After a day of hard fighting they had lost almost 400 men, killed or wounded before being relieved.
The battle has come to represent the bravery and sacrifice of Welsh troops in World War One. This heroic ideal was captured in the painting by the artist Christopher Williams, who was commissioned by David Lloyd George to travel to the Western Front a few months after the battle.
Kindly on loan from Amgueddfa Cymru – National Museum Wales.
Swansea and the Great War – ongoing…
The exhibition focuses on the stories of the men who went to fight in the Great War many of which were Swansea people.
The exhibition also reveals the struggles faced by women who were left behind and looks at their contribution to the war effort. It also explore the stories of conscientious objectors.