*Update for our customers*
We're open Tuesday, Wednesday, Friday, Saturday and Sunday, 10am – 3pm. Entry is still FREE.
---
'Calon Onest, Calon Lân'
The Life & Work of Daniel James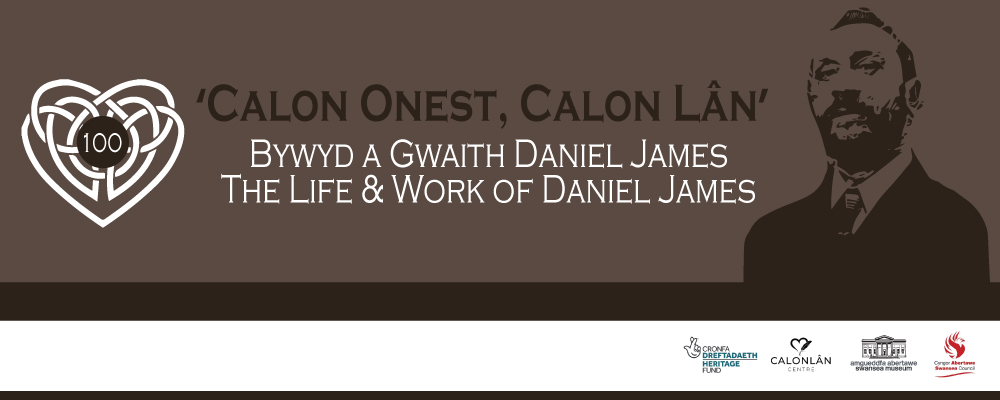 ---
---
Daniel James was born on 23rd January 1848, one of five children born in Treboeth to Daniel and Mary. The 1861 Census shows he was working in Landore at the age of thirteen and he continued as a manual worker throughout his life, always providing for his family.
In contrast to his life as a manual worker his artistic side is revealed by his mastery of the intricacies of Welsh poetry. He initially wrote under the
pseudonym Dafydd Mynyddbach but is better known as Gwyrosydd, his Bardic name. Three books of his poetry were published between 1885 and 1898 and one of the most famous poems to emerge from the books is Calon Lân.
Several sources claim its origin and it has been set to more than one music score. It is mainly associated with the music composed by John Hughes (1872-1914).
Calon Lân has stood the test of time, often being sung at sporting and religious events not just in Wales but throughout the world.
This exhibition celebrates the life and work of Daniel James on the centenary of his death.
50 years of Music
The last day to see this exhibition is Sunday March 8th.
As a part of the 50 year anniversary, the Fusion Programme and Swansea Museum are working with the local community to create a one off exhibition exploring the last 50 years of music in the city. Enjoy a journey through Swansea's musical heritage since 1969 including its venues, influential people, stand out gigs as well as local and visiting musicians.
Do you have any photos, film or memorabilia from the last 50 years of the music scene? If so we'd love to hear from you!! We are looking for the unseen local footage, set lists, flyers, magazines, artefacts and photos etc that you might have kept. We will be working with Swansea Museum and experienced curators to showcase and protect any treasured items.
Join us from Saturday the 21st of September.