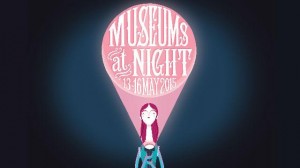 Museums at Night: Late night opening at Swansea Museum
Swansea Museum joins the National Museums at Night festivities by leaving open its doors late into the evening.
Pop in after school or work and join in the fun!
Wed 13 May 2015 and  Friday 15 May 2015
5.00pm. Doors close at 9pm.
This event is free.
Swansea Museum
Telephone: 01792 653763Mr Rod Hughes from Swansea Pals will be here from 6.30p.m.
to do an informal talk on Swansea and the Great War.
What happened in the Great War 100years this month?
Fri 15 May 2015
This event is free.
Swansea Museum
Museums at Night: 'Night at the Museum' Triple Bill
Swansea Museums will be showing all three Night at the Museum films. Dress in historical costume and join in the fun!
Swansea Museum will be showing all three Night at the Museum films. Dress in historical costume and join in the fun!
3.30pm – Night at the Museum (108 mins)
5.30pm – Night at the Museum: Battle of the Smithsonian (105 mins)
7.30pm – Night at the Museum: Secret of the Tomb (98 mins)
——————————————————————————————————————————————————————————————————————
21 May
Half Term Workshop: Our school half term workshop will give you an opportunity to bring your children along to the museum for a morning and afternoon of workshops, focusing around art, and more often than not, connected to one of our new exhibitions.So if you're looking for something to do with the little ones, pop on don to the Museum for a cheerful artistic afternoon
---
6 June
Rhiannon's Legacy Workshop: The relationship between horse and human is one of the longest love affairs in history set against the turbulent background of thousands of years of human and equine evolution.This workshop will combine art and history, looking further into the history of Rhiannon's Legacy.
---
 25 July
WW1 Poster Workshop: Propaganda played a large role during war time to unite the public against a common enemy. Many posters have become iconic and synonymous with the Great War, and this workshop will look at re-creating these with a unique and artistic touch.Continuing to look at different aspects of the Great War during the centenary year and working in partnership with S.W.M. (South West Wales Museums).
---
Glamorgan Young Archaeologists' Club (Suitable for ages 9 – 16)
Second Saturday of Each Month, 10.30am – 1.30pm
The club is an excellent way to explore the past and make new friends. Glamorgan YAC is based at Swansea Museum and offers a range of activities from arts and crafts, guest speakers and games, to finds recording and washing, site surveying and field trips. To find out more about becoming a member or to join please email glamorganyac@gmail.com
---
Film Showings at Swansea Museum
Swansea Museum embraces modern media improving the visitor experience. As part of Swansea Museum's exhibitions and events programme, the Museum will be showing films regularly, adding a new dimension, and ensuring that visitors are really captivated by the topics and subjects explored within its exhibitions.
Showing films which are connected to the exhibits really allow for a more in depth understanding, and allow members of the public to really explore the topics which are covered in the exhibitions from that particular era.
Free 'Rhiannon's Legacy' Film Screenings at Swansea Museum
Black Beauty – 7th April 2pm
Flicka – 11th April 2pm
Sea Biscuit – 19th April 2pm
Champions – 26th April 2pm
The Horse Whisperer – 2nd May 2pm
The Black Stallion – 17th May 2pm
The Black Stallion returns – 24th May 2pm