Talks, workshops, guided tours, film showings and more you'll find plenty of events to keep you inspired at Swansea Museum.
Workshops: All workshops are FREE children must be accompanied by a responsible adult. Workshops run between 10am – 1pm and 2pm – 4pm and are drop in unless otherwise stated.
1st May
Make a 'Star Wars' Art Sculpture.
Suitable for ages 9 to infinity.
'Star Wars' Workshop with sculptor Jonathan Anderson.
Work alongside local artist Jonathan Anderson to make your favourite 'Star Wars' spaceship sculpture. Use common materials like cardboard, wood, tape and paint to make a model X-wing or a TIE fighter, the Death Star, or even a science fiction inspired creation of your own……May the Force be with you!
Saturday 7 – Sunday 8 May, 10am, Swansea Bay
Bristol Channel Pilot Cutters Race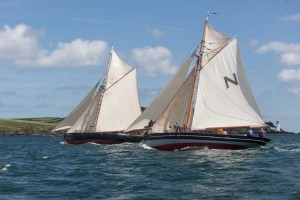 Not to be missed this May, Bristol Channel pilot cutter Olga will be racing her sister ships in a rare sprint in Swansea Bay.
The pilot cutters will be leaving their moorings in Swansea Marina during the morning high tide to race in the bay around 10am on both Saturday 7 and Sunday 8 May.
The best place to see the extraordinary race in the bay will be on the foreshore in Mumbles from 10.00am on both days, before the afternoon low tide pushes them further into the Bristol Channel.
Take a closer look at the historic vessels
The Olga and the other Bristol Channel pilot cutters will be moored at Swansea Museum's pontoon in the marina on Friday 6 May, enabling people to get a closer look at the historic vessels. The pontoon will be opened to the public, especially for this exciting occasion, from 10.00am until 4.00pm on Friday 6 May.
13th May
Museums at Night – The WW1 trench at night

Don't miss this year's Museums at Night 5pm – 8:30pm
Swansea Museum will be extending its opening hours for those who want to make the most of their Local Museum and savour its contents.
Featuring World War I trench experience in our 'Swansea and the Great War' Exhibition
Join us for our annual Museums at Night at Swansea Museum when we'll be opening our doors after hours.
Come and see Swansea and the Great War exhibition and the trench at night.
Meet a real soldier who can tell you what life in the trench was like!
Soldiers worked during the night and used the cover of darkness to observe enemy trenches; the only time they were able to sleep was in the daytime, but only after their morning duties.
Men would be assigned sentry duty and be expected to provide it for up to two hours. Any longer and there was a real risk of men falling asleep on duty, for which the penalty was death by firing squad.
We will also be screening Steven Spielberg's War Horse.
22nd May
Sue Mann: Make art from history!
Artists in times gone by painted using egg tempera. Come along to local artist Sue Mann's workshop and have a go yourself. An all day experience using naturally sourced materials and the museum's rich collection as inspiration. You will grind your own pigment, make your own paint and create your very own work of art to take home with you! *Please note eggs will be used in the making of the paint.*
Sue Mann is exhibiting this year in Swansea Museum, Swansea Grand Theatre and Oriel Bach, Mumbles.
28th May
The Collection Painting
Looking at the collection you will produce a piece of art with the help of artist Hilary Bryanston. Suitable for all ages.
1st June
Never Forget Your Welsh Heroes Roadshow

10:30 – 3:30
The Never Forget Your Welsh Heroes team invites you to join us at Swansea Museum. Do you have any diaries or letters from Welsh soldiers that you are willing to share? We will be able to scan them and arrange for them to be transcribed so that they are preserved for future generations. Or just come along and see some of our letters and diaries; these will either be on display or on our updated website.
11th June
Glamorgan Young Archaeologists Club
10:30
Glamorgan YAC is open to everyone aged 8–16 years. YAC clubs get involved in all sorts of activities, including visiting and investigating archaeological sites and historic places, trying out traditional crafts, taking part in excavations, and lots more.
Glamorgan YAC is based at Swansea Museum and usually meets once a month. A team of volunteers runs the club.
Sunday June 12th –
SWANSEA MUSEUM & JT's Motorcycles Classic Motorcycle Show
Dylan Thomas Square, Swansea Marina
FREE ENTRY ~ AND TROPHIES TO ALL
CLASS WINNERS & BEST IN SHOW
Classes for Classic, Vintage, Custom, Competition and Road bikes
– Country/Rock and Blues music with – Plastic Sam's Stargazer..
Further details & entry forms from Paul Giuffrida
At Swansea Museum on 01792 6537673 or Email: paul.giuffrida@swansea.gov.uk
Saturday June 18th –
Swansea Jazz Festival – Saturday Fringe – Tuk Tuk                
2.30pm & 3.30pm
Swansea Museum
Tuk Tuk
An exciting new project by Cardiff based saxophonist Joe Northwood. Joe's original composition are brought to life with bassist Aidan Thorne and drummer Paolo Adamo.