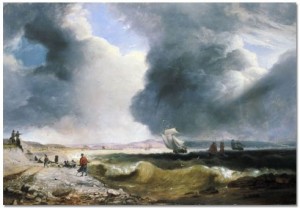 Between 1780 and 1830 Swansea enjoyed a reputation as a fashionable seaside resort, providing all those facilities considered necessary to the comfort of the genteel visitor.  A proliferation of accommodation emerged, from boarding houses to inns and hotels.
Sea-bathing facilities were available, as were theatres, gardens and assembly rooms.
However Swansea had a dilemma, to pursue its life as a smart watering place or develop its potential as a world-class industrial site.  The engineer, James Abernerthy, brought the debate to a close when in the conclusion of his report to the Swansea Harbour Trust he proposed the building of the South Dock on the site of the Old Town Reach (or Burrows), the gentrified area at the hub of the town's social life.
The South Dock was formally opened on the 23 September 1859.  Ironically, since Swansea's industrial fortunes started to take a down turn in the 1920's, it has been tourism and a return to popularity as a resort that has filled the economic breach.
Find out more…
Read more about Swansea's connection with the sea… Fishing