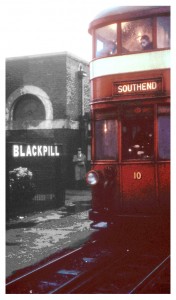 The Mumbles Railway was built as an industrial horse-drawn tramway in 1804-5, and became the first railway in the world to regularly carry passengers in 1807.  Horses were used up until 1896, but steam locos first came into use in 1877. The electric tramcars many people remember took over from 1929 until closure in 1960.
The slideshow below takes you along from station to station, with pictures from all sorts of dates.
The original line ran from Swansea to Oystermouth.  In the 1890s it was extended to the newly built Mumbles Pier.  There were branches in Swansea – up the Strand and out to the West Pier – and near Blackpill up the Clyne Valley.  The names and sites of the stations changed at times – we have chosen those that existed in the 1950s.
Find out more…
Discover more about Swansea's history… Swansea – a brief history