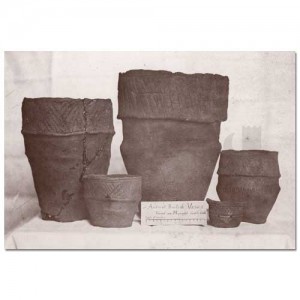 Archaeology provides us with a fascinating insight into the changing rituals and belief systems of diverse cultures.
Following military service in North Africa, Field Marshall Lord Francis Grenfell, of St. Thomas, Swansea, an amateur archaeologist, gifted an Egyptian mummy to Swansea Museum. The mummy, a priest named Hor, has been X-rayed and conserved and has thus yielded up its secrets of preservation in readiness for the afterlife. Hor would have lived between 250-200B.C.
In 1823 Dean Buckland, a geology teacher at the University of Oxford, found a headless human skeleton in Goat's Hole, Paviland, on the Gower Peninsula. He named the skeleton, 'The Red Lady of Paviland', as it was dyed with red ochre as part of its burial rites. Radiocarbon dating revealed the skeleton to be from c.26,000B.C.
Bronze Age burial sites have also been discovered in the Swansea area, including funerary urns from the Middle Bronze Age when cremation became prevalent.
Find out more…
Read more about Archaeology in Swansea… The Iron Age