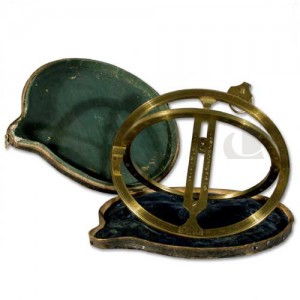 A skeleton model of the celestial sphere, generally with the earth in the centre, showing the equator, poles, tropics, zodiacs, etc., on the outer ring, with inner rings for the sun, moon and planets.
It is an instrument dating from the late 14th – early 15th century, designed to give the navigator a knowledge of the arrangement and motions of the heavenly bodies.
This brass model was made around 1800.
This item is located at Swansea Museum Collections Centre at Landore in the Stores