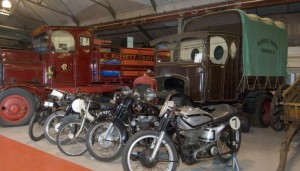 Swansea Museum's store is housed in a historically important building on the former Hafod / Morfa Copper Works site in Landore.
In the mid-nineteenth century this copperworks was the centre of world copper smelting activity, but only a few buildings are left on this site to mark this period in Swansea's history.
Popular items in the stores include motorcycles, old police vehicles, trains and tractors. You'll also find an old fire engine and the William Gammon lifeboat, donated to the museum in 1992.
She was named in memory of the coxswain of the Mumbles lifeboat, who lost his life along with the other seven crew members on April 23rd, 1947 whilst attempting to rescue the crew of the Samtampa.
Not open to the public. Research enquiries must be booked in advance – 01792 653763.
The Collections Centre can be found next to the Park and Ride car park, opposite the Liberty Stadium, on the Cross Valley Link Road, Landore, Swansea, SA1 2JT.