Phil Treseder yw'r Swyddog Dysgu a Chyfranogiad yn Amgueddfa Abertawe ac mae hefyd yn Ymddiriedolwr YMCA Abertawe.
Ar hyn o bryd mae'n ymchwilio i hanes YMCA Abertawe, ac mae'r blogiau hyn yn tynnu sylw at wrthrychau yng nghasgliad Amgueddfa Abertawe sy'n gysylltiedig â'r YMCA, ynghyd ag ambell un o Archifau Gorllewin Morgannwg
Bydd yr un ar ddeg o flogiau'n gweithredu fel cynllun peilot ar gyfer cyfres bosib o flogiau ar yr YMCA a'r deunydd hanes ac archif sylweddol sy'n perthyn i'r YMCA, ac yn darparu hanes cymdeithasol diddorol o Abertawe. Gobeithio y byddant yn cael eu cyflwyno yn ddiweddarach yn 2022.
Bydd pob blog yn dechrau gyda chyfeiriad at y casgliad a disgrifiad o'r gwrthrych neu'r ddogfen fel y mae'n ymddangos yn yr amgueddfa neu ar y cofnod archif.
Catalog Llyfrgell yr YMCA – 1900
Casgliad Llyfrgell Amgueddfa Abertawe
Mae'r llyfryn A6 bach yn bedair tudalen ar hugain o hyd, gyda thair tudalen arall o hysbysebion. Mae'n rhestru'r 699 o lyfrau a oedd ar gael yn llyfrgell fenthyca YMCA Abertawe yn y flwyddyn 1900. Ar yr adeg hon, roedd yr YMCA yn Dynevor Place, cyn ei symud i'r YMCA a adeiladwyd at y diben ar Ffordd y Brenin, a agorodd ym mis Hydref 1913. Mae'r catalog wedi'i rannu'n saith adran gan gynnwys diwinyddiaeth, bywgraffiad, hanes, ffuglen, barddoniaeth, morio a theithio ac amrywiol.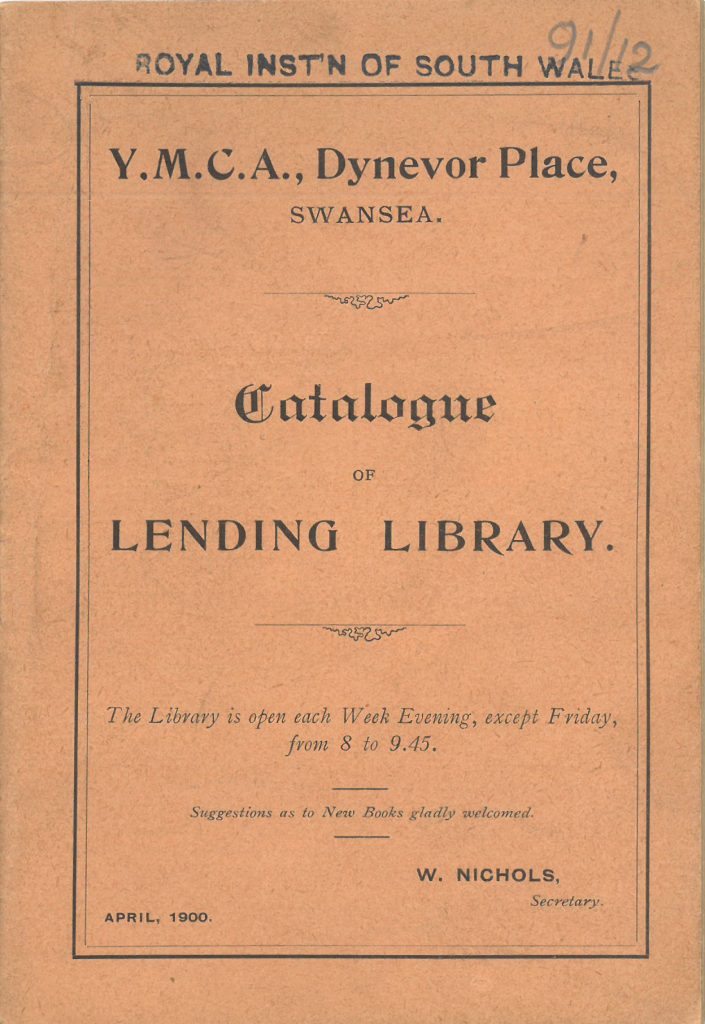 Yn y 19eg Ganrif gwelwyd cynnydd sylweddol mewn addysg a dysgu. Agorodd Llyfrgell Gyhoeddus Abertawe ym 1887 ar Alexandra Road yn dilyn Deffet Francis yn rhoddi casgliad sylweddol o lyfrau.
Cyn hyn, defnyddiwyd llyfrgelloedd tanysgrifio i fenthyca llyfrau. Ym 1815 roedd chwe llyfrgell danysgrifiad yn Abertawe.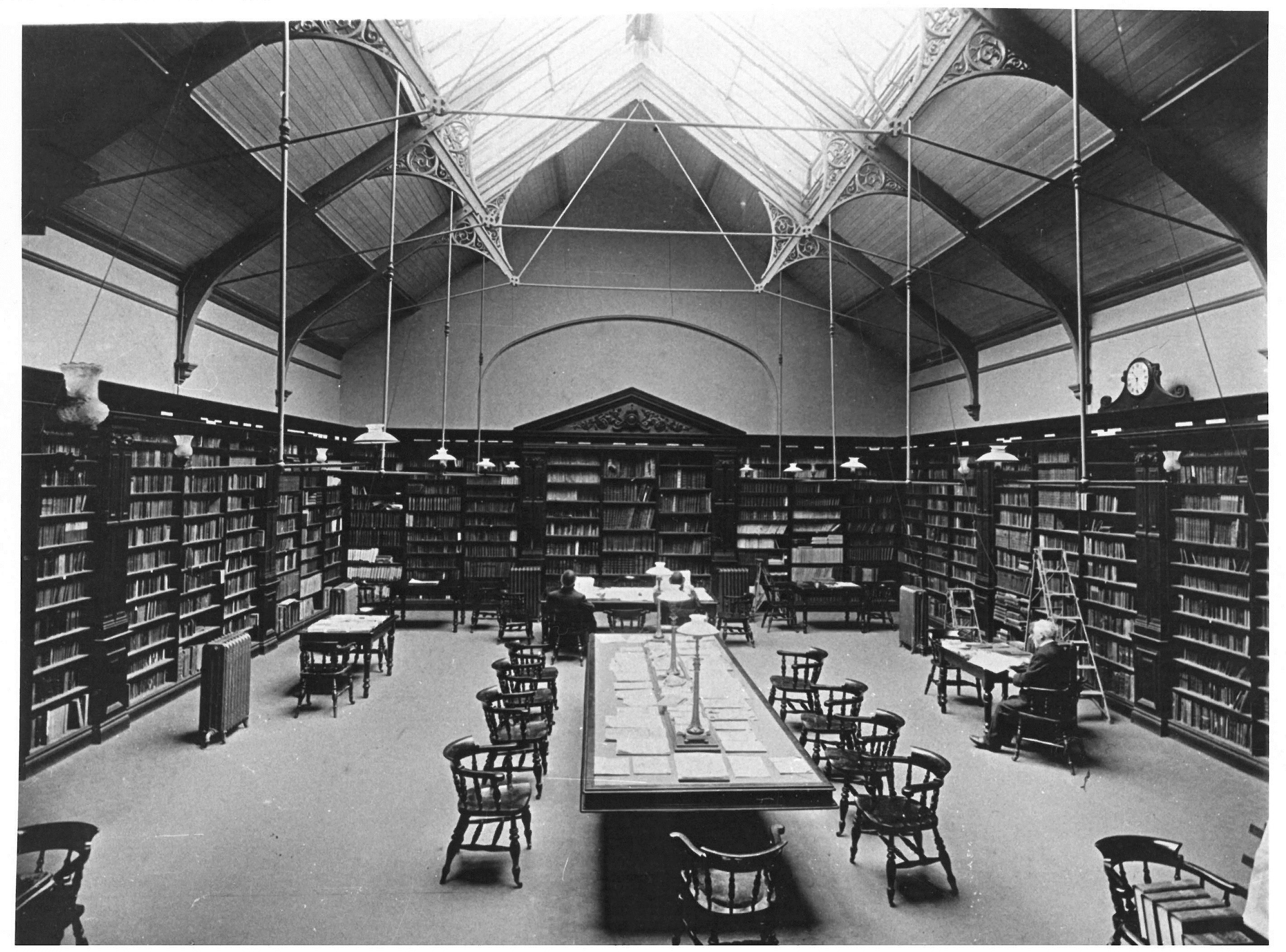 Byddai'r llyfrgell a'r ystafelloedd darllen mwyaf mawreddog yn Abertawe yn agor ym 1841, yn Sefydliad Brenhinol De Cymru (RISW), sef Amgueddfa Abertawe bellach.
Ym 1835 ffurfiwyd Cymdeithas Athronyddol a Llenyddol Abertawe, a enillodd Siarter Frenhinol yn fuan wedi hynny i ddod yn Sefydliad Brenhinol De Cymru. Ym 1841 agorwyd yr adeilad. Roedd yr ardal i lawr y grisiau yn cynnwys darlithfa, llyfrgell gyfeirio a llyfrgell ac ystafell ddarllen. Swyddfeydd staff yw'r llyfrgell gyfeirio ar hyn o bryd, ac roedd y brif lyfrgell ac ystafell ddarllen yn y brif oriel arddangos bresennol.
Mae'r ddelwedd hon o brif ystafell ddarllen Sefydliad Brenhinol De Cymru o ddechrau'r 20fed ganrif ac ar hyn o bryd, dyma'r oriel lle caiff y casgliad hanes naturiol ei arddangos.
Byddai llyfrgell ac ystafelloedd darllen gwreiddiol YMCA Abertawe wedi bod yn debyg ond mae'n siŵr eu bod yn llai, yn llai mawreddog ac yn cynnwys llai o lyfrau. Yn anffodus, nid ydym yn ymwybodol o unrhyw ffotograff sydd wedi goroesi.
Sefydlwyd YMCA Abertawe ym 1868 (neu gellid dadlau ym 1857, i'w drafod mewn blog yn y dyfodol). Y prif nod ar y pryd fyddai dargyfeirio dynion ifanc i ffwrdd o demtasiynau tref Abertawe, fel tafarnau, theatrau a phuteindai, tuag at Gristnogaeth ac achubiaeth drwy Iesu Grist. Mae adroddiad yr heddlu ar gyfer Abertawe ym 1888 er enghraifft yn cofnodi bod naw puteindy a chwe deg pump o buteiniaid yn y dref.
Y prif ddull fyddai darparu llyfrgell ac ystafell ddarllen. Heddiw mae'r rhan fwyaf o staff YMCA Abertawe yn weithwyr Ieuenctid a Chymunedol, felly efallai y bydd yn syndod i chi mai'r swydd staff â thâl gyntaf a hysbysebwyd ym Mhapur Newydd y Cambrian oedd llyfrgellydd ym 1872, gyda chyflog o £20 y flwyddyn.
Disgrifir agoriad ffurfiol yr Ystafelloedd Darllen yn fanwl ym mhapur newydd y Cambrian ar 19 Awst 1870. Yn yr erthygl, nodir eu bod ar gornel Dillwyn Street a Herbert Place.
Mae'r adroddiad yn eu disgrifio fel a ganlyn;
'Agorwyd yr ystafelloedd darllen a'r clwb newyddion deniadol a chyfforddus iawn a adeiladwyd gan Mr. Henry Jack, perchennog brwdfrydig yr YMCA, yn ffurfiol nos Lun diwethaf. Mae'r brif ystafell yn gallu lletya tua 200 neu 250 o aelodau mewn argyfwng, ac mae'n foethus yn ogystal â chyfforddus. Drwy holl led y brif ystafell mae bwrdd darllen mahogani enfawr ac mae'r cadeiriau esmwyth cyfforddus a'r seddi wedi'u gorchuddio â melfed cyfoethog. Gwnaed y lle tân o farmor caboledig ac mae'r gratiau'n cain o ran dyluniad'.
Roedd yr adroddiad hefyd yn dyfynnu'r Maer John Jones Jenkins, Ysw. yn datgan;
"Nid oedd lle i ddynion ifanc y dref ymgynnull gyda'i gilydd at ddibenion hamdden a gwella meddyliol. Yr unig ystafell a fodolai oedd y Sefydliad Brenhinol (Amgueddfa Abertawe)… ac roedd y ffioedd braidd yn uwch na'r hyn y gallai'r bobl ifanc fforddio ei dalu".
Mae'r papur newydd yn cofnodi'r papurau newydd a'r cyfnodolion canlynol y tanysgrifiwyd iddynt ar gyfer yr ystafelloedd darllen. Ymysg y papurau cenedlaethol mae The Times, Standard, Telegraph, Pall Mall, Punch and Judy. Mae papurau lleol yn cynnwys y Cambrian, Western Mail, Herald a Journal. Mae'r cyfnodolion yn cynnwys Sunday magazine, Good Words, Christian Observer, Christian World, Leisure Hour, Edinburgh Quarterly review a'r English Mechanic.
Cyfanswm yr incwm yr oedd ei angen ar gyfer yr ystafelloedd darllen y flwyddyn oedd rhent o £40, £20 mewn trethi, £25 i dalu llyfrgellydd, £15 am y golau, y gwres a'r glanhau a £25 am danysgrifiadau.
Yn anffodus, nid wyf wedi gallu olrhain ffotograff o'r llyfrgell a'r ystafelloedd darllen gwreiddiol. Roedd nodi'r adeilad yr oedd yr ystafelloedd wedi'u lleoli ynddo yn her ynddo'i hun. Roedd y cyfeiriad a ddisgrifiwyd neu a roddwyd yn amrywio rhwng Herbert Place, St Helens Road a chyffordd Dillwyn St a St Helens Road. Herbert Place oedd y lôn a oedd yn rhedeg i'r chwith gyntaf oddi ar St Helens Road, ac yn dod i ben y tu ôl i hen adeilad Peter Allen Estate Agents. Yn amlwg, roedd yn y bloc adeiladau sydd gyferbyn ag adeilad presennol yr YMCA.
Fodd bynnag, yn ddiweddar daeth taflen ddwy dudalen o 1968, yn dathlu'i 100fed pen-blwydd, i'r amlwg gyda ffotograff o'r lleoliad. Roedd adeilad y llyfrgell a'r ystafelloedd darllen gwreiddiol yn uniongyrchol gyferbyn, ac mae yno o hyd. Roedd ar y llawr uchaf uwchben siopau Subway a Lifestyle Express.
Mae'n ymddangos bod YMCA Abertawe yn y 1870au wedi cael trafferthion i ddechrau. Mae ymchwil yn parhau o hyd, ond mae'n ymddangos nad oedd nodau'r sylfaenwyr yn cyfateb i nodau ac anghenion y dynion ifanc. Fodd bynnag, mae'n ymddangos bod pwyllgor rheoli newydd wedi datrys y sefyllfa erbyn canol y 1870au. Erbyn diwedd y degawd roeddent yn chwilio am adeilad newydd a mwy, a daethant o hyd i hen adeilad y Coleg yn Dynevor Place ym 1882. Roedd gan y safle newydd neuadd, campfa, lolfa ac wrth gwrs y llyfrgell a'r ystafell ddarllen. Adroddir am agoriad ffurfiol yr adeilad newydd gan y maer yn y Cambrian ar 2 Chwefror 1883.
Mewn cylchlythyr YMCA ar gyfer 1884, 'The Record', ceir disgrifiad o'r adeilad newydd fel a ganlyn:
"Mae croeso mawr i ddynion ifanc ymweld â'r YMCA yn Dynevor Place sy'n ffinio â phen taith y tramffordd, Gower Street. Ar agor rhwng 9.30am a 10.30pm. Mae'r adeilad cyfforddus yn cynnwys:
Ystafell ddarllen olau, llachar a dymunol, wedi'i llenwi'n dda â phapurau newydd, cylchgronau a chadeiriau cyfforddus. Llyfrgell benthyca, gyda llyfrau ar fywgraffiad, ffuglen, hanes, barddoniaeth, teithio ac astudiaethau'r Beibl.
Ystafell eistedd glyd a chyfforddus gyda phiano, harmoniwm, byrddau ysgrifennu, gwyddbwyll a drafftiau.
Ystafell Bagatelle
Ystafell Ping-pong
Swyddfa'r Ysgrifennydd, lle gellir gweld rhestrau o letyau a fflatiau. Gellir dod o hyd i lythyrau cyflwyno i bob rhan o'r byd.
Ystafell Baddon yr Aelodau, gyda dŵr poeth ac oer a baddon â chawod.
Campfa fawr â digon o gyfarpar a chawodydd poeth ac oer, baddonau, ystafell wisgo a loceri.
Cynhelir digwyddiadau cymdeithasol, darlithoedd etc. o bryd i'w gilydd. Dechreuodd cymdeithas lenyddol a dadlau fis diwethaf".
Byddai'r llyfrgell a'r ystafell ddarllen yn parhau i fod yn nodwedd yn yr adeilad presennol ar Ffordd y Brenin a agorwyd ym 1913. Mae ymchwil yn parhau i ganfod dyddiad cau'r llyfrgell a'r ystafell ddarllen, ond roedd yn dal i fod yn nodwedd yn ystod y Rhyfel Byd Cyntaf.