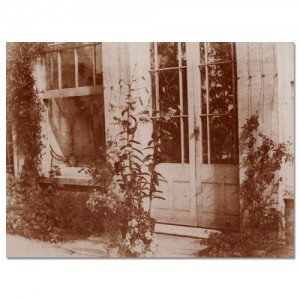 John Dillwyn Llewelyn (Abertawe: 1810 – 1882)
Roedd Wrth Ddrws yr Ystafell Wydr/yr ystafell wydr yn ychwanegiad pwysig a wnaed i Dŷ Penllergaer yn ystod y gwaith adnewyddu a wnaed gan John Dillwyn Llewelyn a'i wraig, Emma.
Oherwydd mai dyma ddyddiau cynharaf oll ffotograffiaeth pan oedd angen golau aruthrol, yn ogystal â chyfnodau datguddio hir, prin yw'r delweddau mewnol a wnaed. Mae Andrew Pettigrew, prif arddiwr Marcwis Bute yng Nghaerdydd, yn disgrifio'r ystafell wydr fel "..a substantially built half-span roofed structure [ ] slightly curved in its length to suit the wing of the building to which it is attached.
It is about sixty feet long (18.29m), twenty feet (6.10m) high and broad in proportion, with a fountain and beds in the centre, and a narrow stage at the side of the path round the back wall."
Delwedd galoteip O. 1850