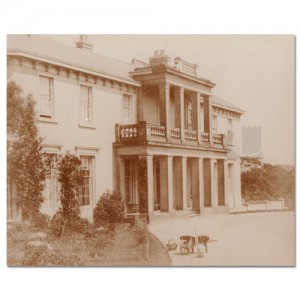 Penllergare House / a.k.a. Penlle'r-gaer; Penllergaer, was home to the Price family for more than two hundred years before the last of their line, Gryffydd Price left the house to his cousin John Llewelyn of Ynysygerwn in his will dated 1783.
Through a convoluted route of succession, the house was to become home to pioneer photographer, John Dillwyn Llewelyn and his wife Emma (nee Talbot).
This angled-view of the façade (or south front) of the house shows the magnificent porch which was glazed in later years.
A small area of garden and some precisely positioned gardening implements can also be seen as can a glimpse of the conservatory to the left of the house. John and Emma made many alterations to the house and its grounds, creating " a Victorian Paradise " (Richard Morris).
Taken by John Dillwyn Llewelyn (Swansea: 1810 – 1882) – Calotype negative 17cm x 21cm c.1850
Penllergare Valley Woods
Although the house no longer exists, Penllergare Valley Woods is a place that can be enjoyed and explored by everyone. It is a landscape that is gradually being revived, restored and regenerated by the Penllergare Trust.
For further information about the restoration project and how to get involved, visit: www.penllergare.wordpress.com