The El Cobre copper mine opened around 1828 , located about 7 miles from Santiago de Cuba, the island's largest port in the South. From the mid 1830's to the 1860's trade between this large Caribbean island exploded, the ore on average being 27% pure metal, compared with 8 to10% from Cornwall. The mine employed about 900 men, more than half of them slaves. In 1837 200 Cornish and Swansea miners were shipped into Cuba, but Yellow Fever killed over half of them. A cemetery – known as 'Swansea Cemetery' – existed near the town for burial of men stricken by the fever, a register of the dead men still retained within port records.
Overseas trade from the Cambrian Pottery to Cuba came about indirectly through the copper industry, as ship owners of any port, who often operated a fleet of vessels, had to make both inward and outward journeys profitable. It was uneconomic and illogical to sail the 4,000- mile journey back to Cuba with an empty hold. A more profitable income required the conveyance of saleable goods on the return journey, and thus reciprocal trade started between Cuba and Swansea – copper in, and cargo, in the form of 'other merchandise' out – the other merchandise was usually coal, but often included ' earthenwares' or  'crockery, which was affordable, well decorated and interesting.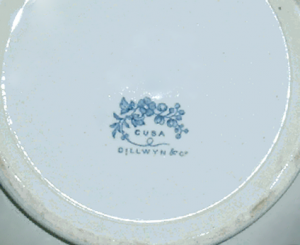 The location of the Swansea Pottery could not have been better placed, near the mouth of the River Tawe, the three masted sailing ships – or Barques – laden with crude ore passing the pottery wharfs to unload upstream.
Swansea had its own Cuban shipping agent – Agacio Velez Y Ca' – a mark often found on various patterns destined for the island. As enthusiasm grew for transfer printed wares, Swansea soon introduced a new pattern called 'Cuba', found on jugs, mugs and loving cups. The view is a romantic artists impression of what Cuban architecture might look like, this period of transfer printing often referred to as the Romantic Period, with engravers relying purely on their imaginative skills and inspired by topical events in distant lands.
Find out more…