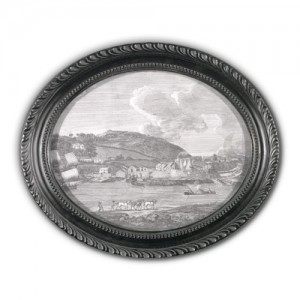 The Cambrian Pottery was founded in 1764 by William Coles.
In 1790, John Coles, son of the founder, went into partnership with George Haynes, who introduced new business strategies based on the ideas of Josiah Wedgwood.  Lewis Weston Dillwyn became a partner in 1802 and sole owner when George Haynes left the pottery in 1810.
In 1811 Dillwyn took T.& J. Bevington into partnership, the company becoming known as Dillwyn & Co.  Between 1814 and 1817, Dillwyn produced the renowned 'Swansea Porcelain'.  Lewis Llewelyn Dillwyn (L.W.D.'s son) ran the pottery from 1836, he bought out the neighbouring Glamorgan Pottery in 1838.
Ironically, many of the redundant staff went on to help found the South Wales Pottery at Llanelli, the competition from which, played a part in the ultimate demise of the Cambrian.  Through its history, the Cambrian employed some of the very best artists, such as Thomas Rothwell, Thomas Pardoe and Thomas Baxter.
The pottery closed in 1870 when the site was sold to Cory, Yeo & Co.