This watercolour is unsigned and undated but bears its title in Baxter's hand on the reverse.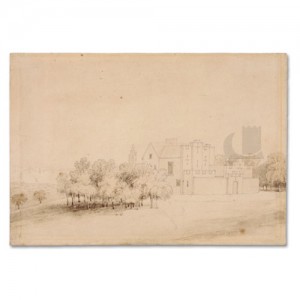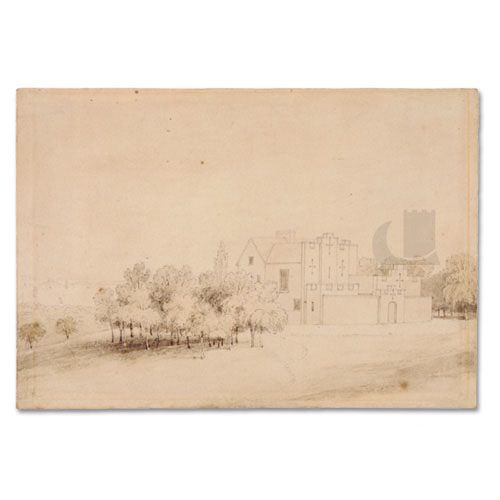 Park Wern was built in 1799-1800. A Swansea Guide Book published in 1823 refers to 'Park Wern, built in a castellated form, the residence of F[rederick] Hickey, Esq., a captain in the Royal Navy'.  Captain Hickey, a friend of the Dillwyn family, occupied the house from 1817 to 1840.
William Henry Smith was a tenant in 1842. In 1843, Lewis Llewelyn Dillwyn and his wife, Elizabeth de la Beche left Burrows Lodge to take possession of Park Wern. Their third child, the celebrated Amy Dillwyn was born there in 1845. In 1853, the Dillwyn family moved to their new home at Hendrefoilan.
Henry Hussey Vivian was the next occupant of the house beside Brynmill Lane, living at Park Wern until 1886 when the family moved to Singleton Abbey on the death of his mother.
Park Wern's ownership now reverted to William Graham Vivian, but he had already established a home at Woodlands Castle, so Park Wern stood empty for twenty-six years until Graham's death in 1912.
Park Wern was used as a military hospital until it was bought by Swansea businessman, Roger Beck in 1920 on behalf of the town's hospital authority and became a nurse's training school in 1922, renamed Parc Beck. The building has now been converted into luxury flats.