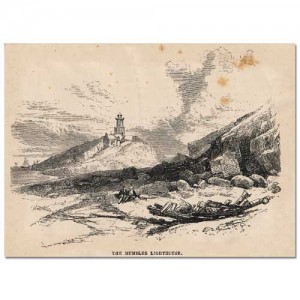 This print shows the lighthouse situated on the outer islet of the Mumbles, a warning to shipping of the proximity of the hazardous Mixon Sands. Two well-dressed young men may be seen sitting, apparently deep in discussion, in the foreground cove.
The print is not attributed but stylistically resembles other topographical prints in the collection of George Grant Francis which carry the initials 'R.C.H.'
This is one of a large number of prints and drawings given to the Royal Institution of South Wales by John Richardson Francis, eldest son of George Grant Francis, in 1895.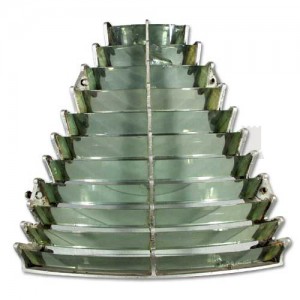 Lens System
This is a large lens system from the Mumbles Lighthouse.
It has a fixed catadioptric light which originally housed an oil lamp but is now fitted with an electric bulb. It was installed around 1860 and replaced in 1970.
For more than two hundred years the Mumbles Lighthouse has guided shipping around the lethal Mixon Sands. The lighthouse is situated on the outer of two islets known as the Mumbles Head.
The Trinity House records describe how, "The Swansea Harbour Trustees were given the power to provide a lighthouse at the outer Mumbles in the Harbour Act of 1791.
In July 1792 the Trustees contracted for the erection of the lighthouse and work began; however in October 1792 the half-finished structure collapsed.
In 1793 the plans of the local architect, William Jernegan were accepted and the lighthouse was finally completed and lit in 1794." (http://www.trinityhouse.co.uk)
Trinity House, who gifted this lens system to the Museum, took over the running of the Mumbles Lighthouse from the British Transport Docks Board in 1975. In 1995 the lighthouse was converted to solar-powered operation.
Mary Press – My Life on Mumbles Lighthouse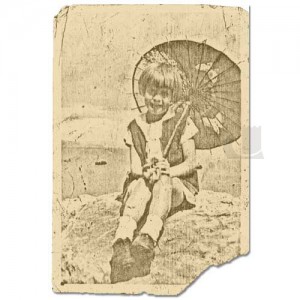 Mary Press was born in 1921. From the age of eight she spent her childhood living on the Mumbles Lighthouse island where her step-father maintained the Fort.
Mary recalled "It was a lonely life on the island with no other children living there. I did usual little girl things like playing shop but my mother and father were my only customers.
Many beach balls came ashore that had been taken by the tide from children playing on the beach at Mumbles. It was fun collecting them.  To keep me company, my mother bought me a puppy who followed me over the rocks."
In her memoirs, Mary also remembers how at night, "… when there was a strong gale the sea was driven against the rocks.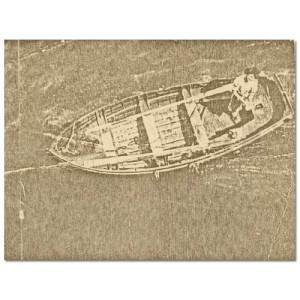 The sound of the sea and the pebbles it was moving was exciting to listen to.
I would also stay awake listening to the large ships passing the island en route to Swansea. They would often sound their sirens when passing."