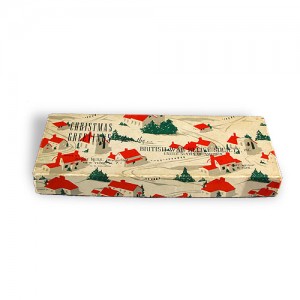 This gift box dating from c.1940 once contained sweets (net weight 8ozs) produced by Henry Heide Inc. [ of New York ], an American candy company which originated in 1869, operating for 125 years until taken over by the Hershey Foods Corporation in 1995 / 6.
The contents have long since been consumed but the original waxed paper still lines the box. Henry Heide's speciality product was almond paste (or marzipan) with candy production only a sideline.
The lid is decorated with a wintry scene of red-roofed houses and green fir trees in the snow and inscribed:- 'Christmas Greetings from the …British War Relief Society Inc. United States of America', who were a non-military, charitable organisation created in 1939 with the intention of providing welfare and support for soldiers in Europe.
The Society would raise funds by selling souvenirs in America and Europe and by holding craft fairs and garden parties across the country. 40% of the Relief Society benefits came to Britain.
This item is located at Swansea Museum Collections Centre at Landore in the Stores