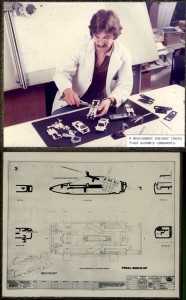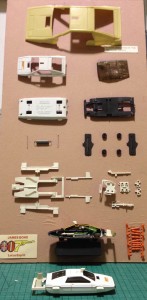 These are plans and prototypes of the James Bond Lotus model car from the 1977 film 'The Spy Who Loved Me' from the Mettoy Factory Swansea. Notice we still have the tiny red missiles, which notoriously were the first things that children lost on Christmas day!
The Mettoy (Metal Toy) company was founded in 1933 by German émigré Philip Ullmann in Northampton, England. He wanted to market a range of toy vehicles as competition to Meccano's Dinky Toysmodel vehicles, which had dominated the British market for many years.
Corgi Toys were introduced in the UK in July 1956 and were manufactured in Fforestfach Swansea for twenty seven years before the company went into liquidation (At the height of production in 1962 there were over 1000 employees at the Fforestfach factory).
The range was exported worldwide and sold in large numbers. Some of the best known and most popular models were of cars made famous in film and television such as the Batmobile, Chitty Chitty Bang Bang and James Bond's Aston Martin DB5 – which remains the largest selling toy car ever produced.