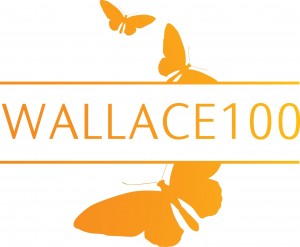 2013 marks one hundred years since the death of Alfred Russel Wallace. Swansea Museum is planning a major exhibition opening in October 2013 to celebrate his life and legacy. You might not have heard of Wallace but you will have heard of Charles Darwin and the theory of evolution – a theory which Wallace co-founded.
Wallace worked as a land surveyor and civil engineer with his brother in South Wales during the 1840s. Wallace would go on to co-found the theory of evolution but has remained obscured from popular history by his much more famous partner Darwin. The Wallace 100 project chaired by the Natural History Museum is an informal international association of organisations who are celebrating the 100th anniversary of Wallace's death.
Swansea Museum is a partner of the Wallace 100 project. Our Exhibitions and Events Officer recently attended the launch of the Wallace 100 project in London which was also attended by David Attenbrough and opened by the comedian Bill Bailey (a Wallace enthusiast and patron of the Wallace Fund).
Read more about Wallace and centenary celebrations in this BBC article: