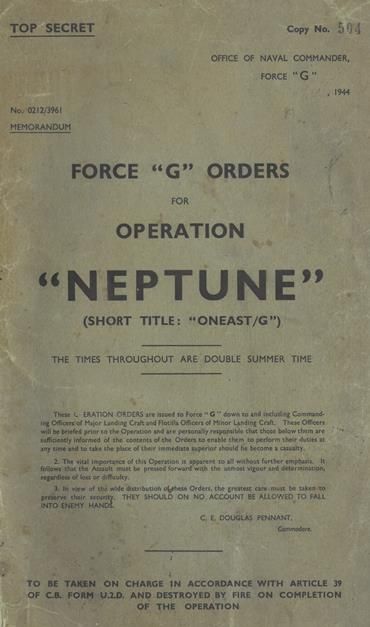 "Operation Neptune" was the code name for the naval operation for D Day, under Operation "Overlord".
The orders run to a few hundred pages all marked "top secret". In large bold type on the front cover it states;
"To be taken on charge in accordance with article 39 of C.B. form U.2D and destroyed by fire on completion of the operation."
As you can imagine, those orders were usually obeyed to the letter and therefore this is a rare survivor. They belonged to Kenneth Hartree Davies, who joined the Navy in 1942 at Swansea YMCA. In 1944 he was promoted to 1st Lieutenant and was appointed to the tank landing craft 'Copra' in time for the D. Day landings, which he took part in under the operation name of "Neptune".
The operational orders survived as their tank landing craft developed engine trouble on D day and was forced to return to port. Kenneth finally delivered his tanks on D Day plus 6.
The impact of war can last a lifetime on an individual, even if not injured physically. An example of this is SM 2018.14.1, an electric hair restorer kit from the late 1940s.
This electric hair restorer belonged to Mr Walter Stockdale. He served in the Pioneer Corp in World War 2 and was one of the soldiers to enter Belsen Concentration camp. He lost his hair due to the shock of what he saw and later purchased the hair restorer to aid with this.