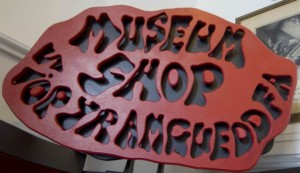 *Coronavirus – update for our customers*
In line with government advice, Swansea Council has suspended many non-essential services to help the community fight coronavirus. This includes those places where public gather such as museums and galleries, and as a result Swansea Museum is temporarily closed.
Find out more
---
Our Museum Gift Shop offers unusual and interesting items for sale. Amongst our souvenirs you will find papyrus and papyrus making kits, Egyptian figurines and jewellery, recycled Egyptian glass and scent bottles.
We also have a selection of fossils and semi-precious stones, contemporary, handmade Welsh Wool brooches. For children we have a range of fun and educational toys and, of course there is always our free Mouse trail activity.
You will find a good selection of books of historical and local interest together with those that accompany our current Exhibitions.
Some items can be purchased online at www.swanseashop.co.uk