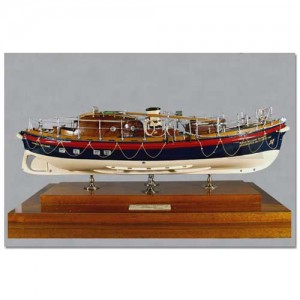 Dyma fodel wrth raddfa o'r bad achub, William Gammon, a roddwyd i'r Amgueddfa ym 1992.
Fe'i henwyd er cof am lywiwr bad achub y Mwmbwls, Edward, Prince of Wales, a gollodd ei fywyd ynghyd â saith arall o'r criw ar 23 Ebrill 1947, wrth geisio achub criw'r Samtampa, a ddrylliwyd mewn corwynt ger Pwynt Sgêr.
Mae'r model hwn a'r bad achub gwreiddiol yn cael eu cadw yn Storfeydd yr Amgueddfa yng Nglandŵr, Abertawe.Mae'r bad achub, William Gammon, yn ymddangos ar y Gofrestr Genedlaethol o Longau Hanesyddol. Mae'n 14.3m o hyd gyda thunelledd dadleoliad o 20.9.Fe'i hadeiladwyd ym 1947 gan Groves & Gutteridge o Cowes a gwasanaethai fel bad achub tan 1984. Dechreuodd ei fywyd gwaith fel bad achub yn y Mwmbwls yn lle Edward, Prince of Wales a oedd wedi dymchwel, gan orffen ei wasanaeth mewn gorsaf ym Manceinion.
Yn ystod ei yrfa, gwobrwywyd y llywiwr, William Gammon, â dwy fedal am ddewrder amlwg, y cyntaf ym 1941, yn fedal efydd am ei ran wrth achub y Cornish Rose, a'r ail ym 1944 yn fedal aur am ei ran wrth achub criw HMCS Cheboque, ffrigad o Ganada.
Cedwir yr eitem hon yng Nghanolfan Gasgliadau Amgueddfa Abertawe yng Nglandŵr, yn y storfeydd.