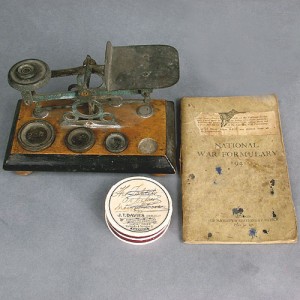 Yn ystod blynyddoedd y rhyfel, 1939-45, nid bwyd, tanwydd a dillad yn unig oedd yn brin. Effeithiwyd ar argaeledd tabledi a moddion hefyd.
Mae'r Ffurflyfr Cenedlaethol ar gyfer 1941, sy'n rhestru sylweddau fferyllol, eu fformiwlâu, eu defnydd a'u dulliau paratoi i'w ddefnyddio gan feddygon a fferyllwyr, etc. yn nodi "War conditions make it imperative to exercise the strictest economy in prescribing…many important substances are available in but limited amounts for medicinal purposes.  They are more urgently required for other branches of the nation's war effort."
Roedd y cynhwysion a oedd ar gael yn cael eu pwyso'n drachywir ar gloriannau gan ddefnyddio pwysynnau efydd bychan (2 owns; owns; 1/2 owns; 1/4 owns). Yna, byddai'r tabledi yn cael eu dosbarthu mewn blychau pils crwn o gardbord fel yr un yma gan J. T. Davies (Chemists) Ltd., Uplands yn Abertawe.
Rhoddwyd patent ar y blychau pils papur ym 1890 gan Robinson & Son (sef Robinson Healthcare, Worksop heddiw) y dechreuodd eu busnes ym 1839.
Cedwir yr eitem hon yng Nghanolfan Gasgliadau Amgueddfa Abertawe yng Nglandŵr, yn y storfeydd.