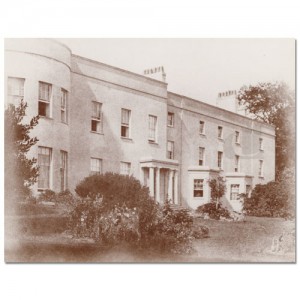 Tynnwyd gan John Dillwyn Llewelyn (Abertawe: 1810 – 1882)
Neuadd Sgeti, Abertawe 1852: adeiladwyd y tŷ ar ddechrau'r 1700au, a'i ehangu gan Lewis Weston Dillwyn (1831-1865). Roedd gan y tŷ ar Lôn Sgeti dŷ poeth (i dyfu planhigion a ffrwythau trofannol) a thŷ iâ ar ei diroedd.
Mae dyddiadur Lewis Weston yn datgelu'r canlynol: "…all the family were so crazily in love with Sketty Hall that I wrote this evening and offered £3800 for it and the fixtures" [18 Mehefin 1831].
Mae chwaer JDL, Fanny, yn gofyn mewn llythyr (1831) i'w ddarpar wraig,  "Have you heard of Papa's new purchase of Sketty Hall? We were all greatly delighted when we had prevailed on him to buy it, as a residence, instead of the Willows (cartref Fanny yn ddiweddarach pan briododd Matthew Moggridge) which is completely a town house. Sketty Hall is very quiet and retired, and there are nice walks and trees and fields about it…" (Dyddiadur Mr Dillwyn)