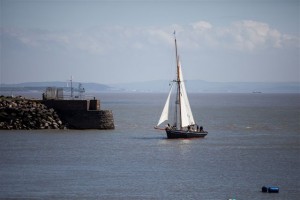 Olga came third in this year's 'Cock of the Channel' race organised by Barry Yacht Club. Usually the race lasts around 13 hours and runs from the Saturday through to Sunday afternoon but due to adverse weather conditions on the Saturday ( May 4th), this year they only raced on the Sunday for about 4 hours.
Olga came third – so no nice silver trophy this year!
The Bristol Channel Pilot Cutter Owners Association races took place on the Monday racing from Barry into Portishead and on the Tuesday from Portishead back to Barry.
Olga came third in both races mainly due to lack of wind (we need more sails) . The Bristol Channel was like a millpond especially on the Tuesday morning.