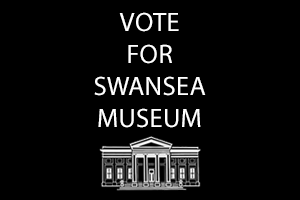 We're currently in the running to be a successful host for artist Amy Sharrocks, we thought it'd be a good idea to let you know a little more about Amy Sharrocks, her influences, and her work.
Welsh Rugby legend Scott Quinnell popped in to The Collections Centre this week – he wants to see Amy Sharrocks at Swansea Museum for Museums at Night 2014 too. Please vote for that to happen…
If you haven't voted for us yet, you can do so by clicking here.
Below is Amy Sharrocks Biography
Amy Sharrocks is a live artist, sculptor and film-maker. She invites people to come on journeys in which their own experience, communication and expression are a vital part. Undertaking these journeys with a sense of humour, joy and risk radically implicates the public, creating a bond and an outcome that is rich and unpredictable. This invitation and the bravery and invention of people's responses, produces new avenues for exploration and fantastic visions within the everyday.
For many years Amy has been investigating our connection to water. On 12 July 2007 she made SWIM, where 50 people swam across London via 15 lakes, lidos and pools, from Tooting Bec Lido to Hampstead Heath Ponds. She has floated her boat on swimming pools up and down the country and is currently gathering donations for Museum of Water: a large public collection of water that people want to preserve, in the container of their choice.
Amy continues to make many walking, stumbling works across Europe, for many people or for one: A Tale of Two Cities – virtual tours by mobile phone – as well as company, where she accosts people in the street and asks if she can walk them to their destination, that for a little while they can go together, like a car pool. She is currently encouraging people to sign up for Swim the Thames, a mass swim across The River Thames, underneath Tower Bridge. She also spends a lot of time thinking about falling, looking at how we try to stay upright; how the world falls and how we fall with it. She won the inaugural Sculpture Shock award from the Royal British Society of Sculptors, and in 2013 she spent her time there making many falling works, including the large participatory pieces, Invitation to Fall, Time to Fall, Keeping Up and Flop. Her writing Anatomy of Falling is about to be published in Performance Research.