Swansea and the Great War exhibition opening  this Friday, on 25 July, until 18 January 2015 in Gallery One. 
The 28th July 2014 marks the 100th anniversary of the start of one of the most catastrophic wars in European history.
Over 60 million people were mobilised for the armed forces alone. Young men signed up to serve in their thousands from all over Britain including, of course, Swansea and South Wales.
Many of those who signed up never came home and those who did were often greatly affected by the events they witnessed.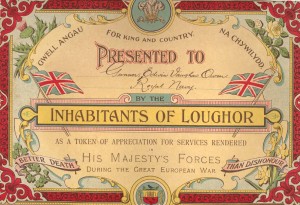 The exhibition will focus on the stories of several Swansea individuals who were involved in the Great War. As well as the stories of the men who went to fight the exhibition will also reveal the struggles faced by women who were left behind. It will look at their contribution to the war effort and we will also explore the stories of those who conscientiously objected.